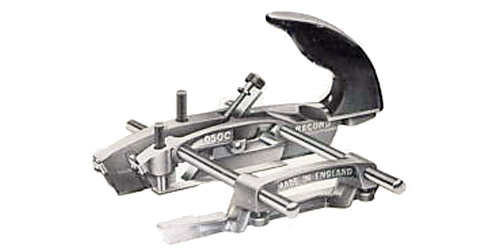 Record No. 050C Improved Combination Plane
as illustrated on the 050C Plough Plane instruction booklet
Similar to the 044C, the 050C was introduced as an entirely new design that now superseded the No. 050 combination plough plane (first introduced in 1932).
18 cutters were provided as standard. These consisted of 12 plough cutters (4 metric), 5 beading cutters and 1 tonguing cutter. The spur for cross grain scoring was located at the front of the plane and was an entirely new design. There was also a sliding section for cross-grain work such as the planing of housings (or dadoes).
The depth stop was the same design as on the 044C plough plane, featuring "a nylon expander for positive locking", and the handle was, once again, made of cellulose acetate.
Even though it too won a British design excellence award (like the 044C), this plane had a relatively short life, having a manufacturing date of around 12 years.
An instruction book was provided with each plane.
First introduced in a Price List in 1970.

---
Specifications:
| | |
| --- | --- |
| Manufactured: | From 1970 to 1982 |
| Length: | 10 inches |
| Weight: | 2-1/4 pounds |
| Cutters: | 18 tungsten steel cutters |
| Construction: | Cast iron body, cellulose acetate handle |
| Finish: | Plated |
| Features: | Award winning design |
| Uses: | General purpose combination plane |
| Average Dealer Price: | $30 to $80 |
| Average eBay Price: | $30 to $80 |

| | |
| --- | --- |
| Prices Updated: | December 2008 |
Please note that the average prices for Record planes have been determined by keeping track of planes sold on eBay, internet auctions, actual real-world auctions, through dealers and various dealer websites. They should only be used as a guide and it should be noted that all prices are dependent on the age, condition, completeness and rarity of a particular plane, as well as the presence, if any, of packaging and associated items, such as brochures, advertising or instructions.


---
Record Planes on eBay right now...
---